Looking to Add Bite to Your
Existing Website Content? Need Persuasive Dental Copy to Get
Your Teeth Into? I've Got You Covered
Hi, I'm Dale King, a highly experienced British-born specialist dental content writer and copywriter. I help dental clinics and dental companies to build trust, position themselves as trusted experts and attract more patients/customers.
For the last 12 years, I've made it my business to understand your industry.
So if you need unique dental website copy, patient-friendly treatment pages, B2B  or B2C marketing material, persuasive landing pages or downloadable guides, I can help.
Marketing Your Dental Businesses Is Hard – I Get It!
It's true; I really do!
Unlike other businesses where people are already interested in the goods and services offered, dentists first need consumers to trust them. In reality, they're starting from the point of disadvantage.
It's all good talking about your services, but you must make that connection.
Here's an example.
What your customers want vs what you think they need
Let's say a person is considering a service you offer – braces, teeth whitening, whatever.
Of course, they want the result – a straighter smile, whiter teeth, etc.
But they aren't buying it for that reason.
Instead, they're purchasing for the emotional benefit it brings – self-esteem, confidence, happiness, etc.
If you (or I 😊) can tap into this mindset, we're onto a winner. That's excellent dental copywriting!
The bottom line is this.
If you're not finding ways to communicate with your target audience effectively, your business won't grow.
I understand how to connect dental practices and dental businesses with potential patients or customers through the power of words.
Want to know more?  Keep reading .
I can help you in the following ways:
Having high-quality, informative dental content means you'll generate greater:
Other Reasons To Choose a Specialist Dental Content Writer
Poor content costs you your reputation and money – fact!
Dental content comes with its own unique set of rules. Advertising guidelines are stringent, and implying the wrong wording can land you in hot water, plus a hefty fine to boot!
After all, I wouldn't trust a non-dental professional to extract a tooth, so why would you trust someone who doesn't know the industry to write your content?
As a specialist dental content writer for hire, I have the industry knowledge to write GDC, AHPRA, OR ADA-compliant content you can count on.
But don't just take my word for it; here's what my clients are saying.
"Dale provided high-value work on our activity's scientific and marketing aspects. He is a reliable collaborator, delivers on time, and understands the dental field very well.
"I have been working with Dale for the last couple of years and I have found the service he provides to be exceptional and most importantly, relevant to our industry. He has supported us with the original website copy and ongoing blog posts, and all of our bespoke projects since inception. I would highly recommend Dale to anyone looking for an experienced copywriter in the dental sector."
Check out some examples of the work I have done over the years.
My blog is also a good way to get a feel for my writing style.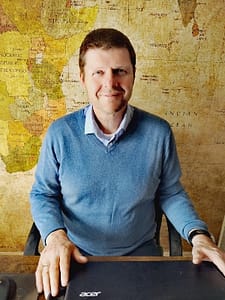 Hello, I'm Dale King, and I guess you could say I'm a specialist dental copywriter and content creator with 12+ years of experience. Although British-born, I'm a full-time, tax-paying freelancer living and working in Spain. But I guess that doesn't really tell you much about me.
Aside from that, I'm an avid Norwich City fan, a lover of Gin,
and if I had to cook my last meal on earth,  it would probably definitely be a roast chicken
So, what do I do daily?
I specialise in all manner of content for dentists and dental-related companies, including blogs, web content, dental advertising, landing pages and case studies.
How did I get here?
I've been writing content and copy since 2005, but I initially cut my teeth as a generalist writer. Over time I found myself landing more and more dental work. So, in 2010, I made the decision to focus purely on all things dental.
Since then, I've been fortunate enough to work with some pretty big hitters in the industry, including Colgate and Align Technology (Invisalign) plus some of the most innovative companies like Zygoma ZAGA and Mimetis Biomaterials.
I also work with dental practices across the UK, Australia, the US and Europe, so I'm fortunate enough to have an array of clients from all walks of life.
Want to find out more about how I can help? Complete the contact form below, and I'll get back to you soonest. 
Ready To Take Your Dental Content
To The Next Level?